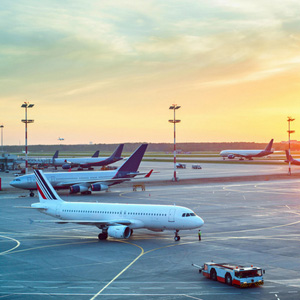 An inpatient from Walkergate Park, a neuro-rehabilitation hospital which is part of Northumberland, Tyne and Wear NHS Foundation Trust (NTW), was given a surprise that he will never forget.
The gentleman who has been a regular visitor to the Sunderland Airshow for many years was unable to attend this year due to his rehabilitation.  He was disappointed but was totally understanding of the reasons.
Debbie Potter, Activities Facilitator at NTW was determined to find a solution so she started ringing around to see if she could organise something for him. After speaking to the security team at Newcastle International airport, they kindly agreed that it would be possible for them to go to the airport.
I was overwhelmed but in a good way

Gentleman at Walkergate Park Hospital
On the evening of Friday 27 July, Debbie and an ambulance driver accompanied her patient to Newcastle Airport to see the aircraft arriving prior to the Sunderland Show.
The group were welcomed by the security and ground crew and invited to join them on the side of the runway. Within minutes the Red Arrows flew in and the aircraft lined up just in front of where they were standing. This was a thrilling experience for the gentleman however there was more to come. As they watched other display planes landing, the Red Arrow pilots came out to greet them and spent time chatting and having photographs taken.
As you can imagine this was the highlight of his evening, he had a brilliant time and was on a high telling his mam all about it the following day. The Trust would like to take this opportunity to thank each and every one of the people involved in making this such a special and memorable experience.