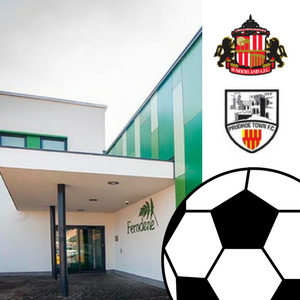 A trophy bearing the name of a football legend who helped both Newcastle and Sunderland to FA Cup glory will raise cash to help young people with mental health difficulties and learning disabilities.
The Bob Stokoe Shield will see Sunderland AFC Under 23s challenge Prudhoe Town FC in aid of Ferndene, an NHS inpatient centre just on the outskirts of Prudhoe. The entire community is expected to get involved on the night, with bunting up in the town centre, a raffle, and a window display competition for local firms.
Ferndene is run by Northumberland, Tyne and Wear NHS Foundation Trust (NTW), one of the country's largest mental health and disability service providers. The centre supports children and teenagers with complex health, behavioral, and emotional needs, including those with a learning disability.
Sunderland AFC Football Academy trains its Under 12s Outreach Centre players at Ferndene. It was this link that sparked the idea for a fundraising football match for the Bob Stokoe Shield. All proceeds from the match will go towards sports facilities and equipment for the young people at the centre.
Bob Stokoe was born in Mickley, Northumberland. He played for Newcastle United for 13 years, including in the FA Cup final victory over Manchester City in 1955. He went on to manage Sunderland AFC, leading them to triumph in the 1973 FA Cup. His name symbolises the two communities of Prudhoe and Sunderland coming together and his daughter, Karen, has kindly agreed to present the shield to the winning team on the night.
Encouraged by Prudhoe Town Council, local businesses will be decorating their shop windows to celebrate the community's effort to support their local NHS. Children at Ferndene will then judge the displays, picking a winner and a runner-up.
The match is at Prudhoe's Kimberley Park on Friday 19 May. Gates open at 5.30pm and kick-off is at 6.30pm.
Tickets are only £3 for adults and £1 for children/concessions. They are available from Eventbrite or you can also buy tickets in person from the following places:
• Hopewood Park, Sunderland, SR2 0NB: see Claire Wilson at the patients bureau
• Monkwearmouth Hospital, Sunderland, SR5 1NB: speak to Jackie and Lynn on main desk
• Northgate Hospital, Morpeth, NE61 3BP: speak Pauline Edwards in the cashiers department
• St George's Park, Morpeth, NE61 2NU: speak to Deborah Mileham in the cashiers department
• St Nicholas Hospital, Gosforth, Newcastle, NE3 3XT: speak to Lesley Thompson in the cashiers department
• Prudhoe Town Community Centre: Please speak to Brian on <a href="tel:07855771335″>
• Prudhoe Spetchells Centre: call <a href="tel:01661 836668″>
• Ferndene, Prudhoe, NE42 5PB:  please phone <a href="tel:01661 838400″>